Theres a lot more to our suits.
Below is most of the features and options of Waggery suits!
Fursuit
Heads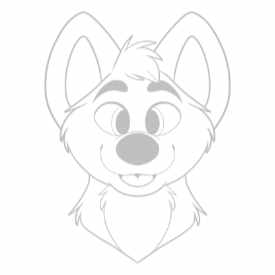 Sculpted in 3D
We start by sculpting all of our heads in 3D software, and then can color and simulate the fur on heads in a ways to show you the concept prior to building.
Unique Sculpts
Our heads are often unique sculpts. Unless the commission or character is intended to be similar to others, we often create separate sculpts for most of our suits. This gives your character uniqueness in look and expression.
Strong & Pearly Teeth
Our teeth are made from heat polished flexible plastic. They are plates that contain all of the teeth so you will never loose a tooth, and they can never be chipped. The gums are flocked and available as black or dark red.
Magnetic Tongue
Our tongues are held in with magnets, and optionally can order multiple tongues for different lengths of blep, and even licking the side of your muzzle too.
Glassy Toony Eyes
The toony eyes we offer are fully rounded and polished to create a truly glassy looking eye. The screens are water resistant and durable to withstand gentle cleaning. Our heads can accommodate glasses if requested. However we recommend wearing contacts as the closer we can get the head eyes to -your- eyes, the better the field of vision.
Dual Head Fans
We install TWO fans in the heads to exhaust air out and constantly draw in fresh air. We supply an easily interchangeable rechargeable battery, and charges lasts 6-8 hours on a full charge. Additionally the mouths are aligned as best possible for ease of breathing, and drawing in cool, fresh air.
Optional Magnetic Eyelids
We install magnets in the eyes for the optional addition of eyelids at any time. We can sculpt different expressions that can be easily swapped, and with strong magnets for great hold.
Fit to -YOUR- head
From the profile photos, we recreate the rough shape of your head, and use this to make the inside be exactly from the proportions, angle and size of your head. This gives the best fit, and try to make the eye direction aim match your natural angle of your actual head.
Digitigrade or Plantigrade
Bodies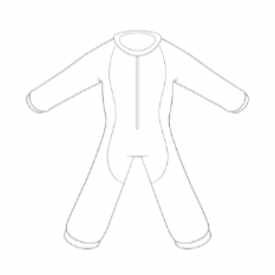 -NO- DTDs Needed
NO Duct Tape Dummies are necessary. We have a simple measurements form and ask for three photos of you. We build a cloth body from these measurements that you'll receive and send us photos showing the fit. Give us your feedback of your desired fit and end look, and will make the body to your preference.
Digi: Proof of Sculpt of Body
On Digi suits we digitally sculpt the shape of the suit and send proofs prior to making! YOU get to approve the design prior to production.
Color Design Proofs
We will draw all of the color breaks on the body, paws, tail and head, and send basic renders over for approval to ensure we haven't missed any markings.
Optional Phone / Key Pockets
We can sew pockets with hidden zippers into the body for easy access of storing your phone and room key.
Adjustable Digitigrade Padding
All digi pockets have zippers for removing insides. Smaller pockets will have loose fill, and larger pockets will have pillows, also with zippers for adjusting fill inside pillow.
Lighter Weight Fill that Doesn't Clump
Nobody wants a lumpy butt, or legs, or chest. This is why we use a premium cluster fill that doesn't clump when its washed. Also it's roughly half the weight of traditional Polyfill.
Offset Body Zipper with Liner
We are now installing zippers with a face sewn liner that isolates it from the fur and minimized fur getting into the zipper path.
Hidden stitch plush collars
Paws and bodies are all sewn with rolled edge collars that are stitched to make a nice thick collar that is easy for grabbing and pulling on, super comfortable, and sewn so the stitching is hidden on the outside. We pride ourselves on putting in finishing details that make your suit be professionally made.
Hand and Feet
Paws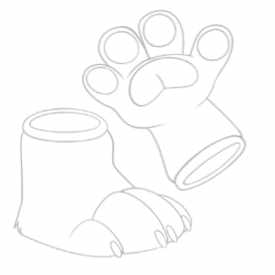 Outdoor Foot Paws with real shoes
We don't use slippers (unless requested), but instead put in legit nice shoes inside our outdoor paws so you can walk over crazy things and have the support you need.
Indoor Foot paws with socks inside
Made with a super comfortable sock for lounging. Constructed with a layer of EVA foam for some cushion and protection from walking on hard surface, and soft foam bottom for a super squishy feel to the paw.
Service Zippers on Front of Foot paws
For access to inside to adjust shoe if it's a lace up style, and to adjust the fill inside.
Zippered Attachment for Foot paws
We make standard footpaws being attached with zippers to make the shape carry through better, and no separation during active movements.
Optional Heavy Duty Soles
Also offer the option of regular light soft bottoms, or super durable shoe sole rubber for super durable long lasting paws.
Sewn liner from collar to shoe
Having a really strong liner, you can use the collar to pull your foot into the shoe. Since its sewn to the shoe it won't give loose.
Handpaws Attach via Magnets to Suit
Using rare earth magnets on the collars of the paws, and inside the sleeve, when you put on your paws, once brought together, the magnets hold your sleeves to your paws solving the tucking of paws and separating from active movement, but are easy to simply pull off when you need your hands back.
Fursuit
Tails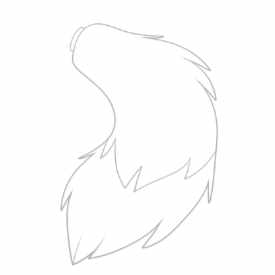 Attached Tails
When you order a body with a tail... We prefer to attach tails! A) It prevents from your underarmour showing thru. B) Makes washing it convenient since its attached, and C) We use the tail as a stretch zone on your body... so when you bend over it provides more room for stretch.
Zippered Insides
Depending on the size of the tail we may install a zipper on the tail and make the insides be a pillow that can be removed for easy washing.
Include Attached Belt
We also include a belt that's sewn to the tail / body to make sure its held against your body and supports it, gets washed with the suit and -never- gets lost or forgotten!